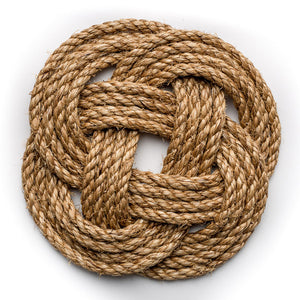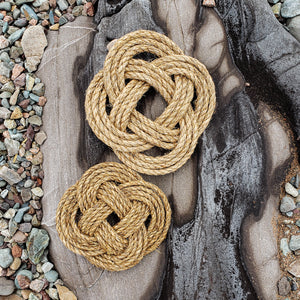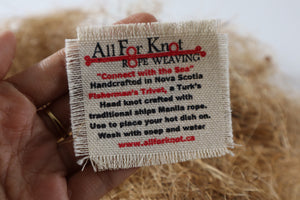 Manila Fishermans' Trivet
The Manila Fishermans' Trivet is handcrafted in Nova Scotia, Canada on the shores of the Bay of Fundy. This traditional 4 Bight Turks' head knot has been tied for centuries and was originally crafted aboard a ship for decorative purposes. Help prevent damage to tables and counter tops from hot pots. Easy to wash with soap and water, lay flat to dry. Blonde/Brown in color.

Available in two sizes - 7" and 9".
So pleased
I just wanted to say thank you, the order I placed yesterday arrived this morning! I was so surprised & pleased! The wreath & trivets are beautiful, I am so pleased with them. Thank you!
Love Your Website!
I am so pleased to see your terrific website. I am passing your link on to many friends including an old pal who lives in the Halifax area. Right from the start I loved your inspiration, environmental ethics, creativity and Nova Scotian way. Brilliant!