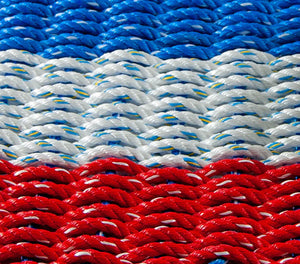 Lobster Rope Doormat - Signature Series "The Admiral"
The "Admiral" Doormat uses specific colors representing the red, blue and white of the Admiral's Squadrons. Handcrafted in Nova Scotia, Canada on the shores of the Bay of Fundy. Woven with tough, durable lobster fishing float rope for use in all weather. As with all All For Knot products, this doormat is finished with a traditional form of splicing. Easy to clean with garden hose, pressure washer, or simply shake.

Available in two sizes - 32" x 18" and 48" x 24", custom sizing is available upon request.

Please allow 10 days for shipping of the 48" x 24" size option.