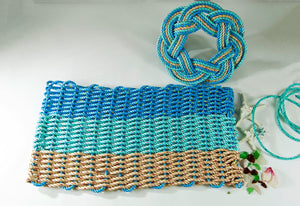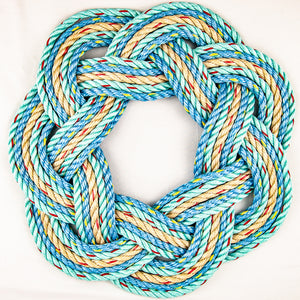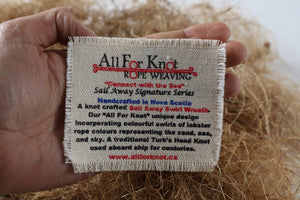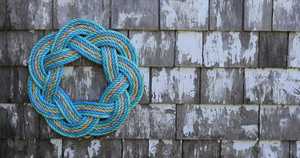 Signature Series "Sail Away" Sailors Wreath
The "Sail Away" Sailors Wreath uses specific colors representing the sand, the sea and the sky. Handcrafted in Nova Scotia, Canada on the shores of the Bay of Fundy. This Turks' head knot has been tied for centuries and was originally crafted aboard a ship for decorative purposes. Wreaths are tied with tough, durable lobster fishing float rope for hanging in all weather. Wreaths may be hung on a door, used as a candle ring, to frame a mirror/picture.

Available in one size - 16" diameter.
Sail Away Rope Knot
Love my Sail Away rope knot. I'm from BC. It's a wonderful memory of my visit to Moncton New Brunswick. Looks amazing on my deck.
Hi Joan,
We are happy to hear you had a visit on the east coast. Thrilled you are enjoying your Sail Away Wreath and chose it as a reminder of special times.
Thank you for taking the time to write a review.
Kindest regards,
All For Knot team.
16" Signature "Sail Away" Wreath
I received my Sail Away wreath this morning and I absolutely love it. The colors are so vibrant and it looks beautiful on my front door and I look forward to purchasing other products. Thank you Angela for this beauty and for the note included with my purchase.